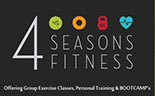 "SPRING BOOTCAMP 2018"
***Spring 2018 BOOTCAMP Course***
23rd APRIL 2018 - 2nd JUNE 2018
HERE WE GO! After a longer break than usual between Winter & Spring Courses.
There has been a FANTASTIC response from the Winter BOOTCAMPers since the Course ended! NOW excitied too see you continue on from where we left off!
NEW to BOOTCAMPs... We have an UNBELIEVABLE Community of welcoming likeminded people ALL working towards there own specific GOALS...
Within the 6 Week Course you will see a dramatic difference in your Body Shape as well as feeling a HUGE sense of achievement after each BOOTCAMP Session...
Our BOOTCAMPS offer a fantastic opportunity to anyone with the enthusiasm to start a fresh, invest, improve and integrate within out BOOTCAMP COMMUNITY.
RESULTS from the previous courses speak volumes on how the 4 Seasons Fitness team can impact on your life, not only for the 6 weeks of the course but for the months and years that follow
The sessions will take place at Sandye Place Academy with a cash prize going to the Bootcamper with the most body fat % loss.
SOME OF OUR AMAZING MEMBERS RESULTS - WELL DONE GUYS