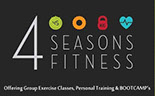 "SPRING BOOTCAMP 2019"
15th APRIL - 25th MAY 2019
NEW to BOOTCAMPs... We have an UNBELIEVABLE Community of welcoming likeminded people ALL working towards there own specific GOALS...
Within the 6 Week Course you will see a dramatic difference in your Body Shape as well as feeling a HUGE sense of achievement after each BOOTCAMP Session...
Our BOOTCAMPS offer a fantastic opportunity to anyone with the enthusiasm to start a fresh, invest, improve and integrate within out BOOTCAMP COMMUNITY.
RESULTS from the previous courses speak volumes on how the 4 Seasons Fitness team can impact on your life, not only for the 6 weeks of the course but for the months and years that follow
The sessions will take place at Sandye Place Academy with a cash prize going to the Bootcamper with the most body fat % loss.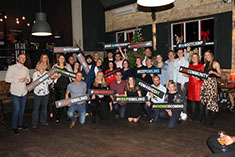 Huge CONGRATS
𝗔𝘂𝘁𝘂𝗺𝗻 𝗕𝗢𝗢𝗧𝗖𝗔𝗠𝗣 𝟮𝟬𝟭𝟴 WINNERS
With 5.8%/5.7% Body Fat Losses go too...
Jean Smart & Natalia Adler
Each collect £125 Prize Money!!
Both of these ladies had FANTASTIC 6-Week BOOTCAMPS and were well deserved Winners.
Natalia's Achievements...
✔️5.8% Body Fat Loss
✔️8lb Bodyweight Loss
✔️15.8cm Off Total (R.Arm/Bum/Waist/R.Leg)
✔️1.3kg Gained in Lean Muscle
Jeano's Achievements...
✔️5.7% Body Fat Loss
✔️15lb Bodyweight Loss
✔️8.5cm Off Waist alone...
✔️Lower Hold Press Up 18secs-39secs
HUGE WELL done to you both and to all who attended this year's Autumn 2018 BOOTCAMP 6-Week Course
SOME OF OUR AMAZING MEMBERS RESULTS - WELL DONE GUYS